sponsor


---
More Peace in the Middle East! President Trump Brokers Another Historic Agreement
Reports coming from the White House on Friday afternoon tell of another historic peace deal brokered by none other than President Trump.
The Kingdom of Bahrain - a sovereign nation off the coast of Saudi Arabia in the Persian Gulf, has agreed to peace with Israel.
sponsor



On Friday evening, Secretary of State Mike Pompeo met with Isa bin Salman al-Khalifa, the Crown Prince of of Bahrain, to orchestrate the historic peace treaty. The Joint statement was posted via Twitter by the Commander in Chief just moments ago.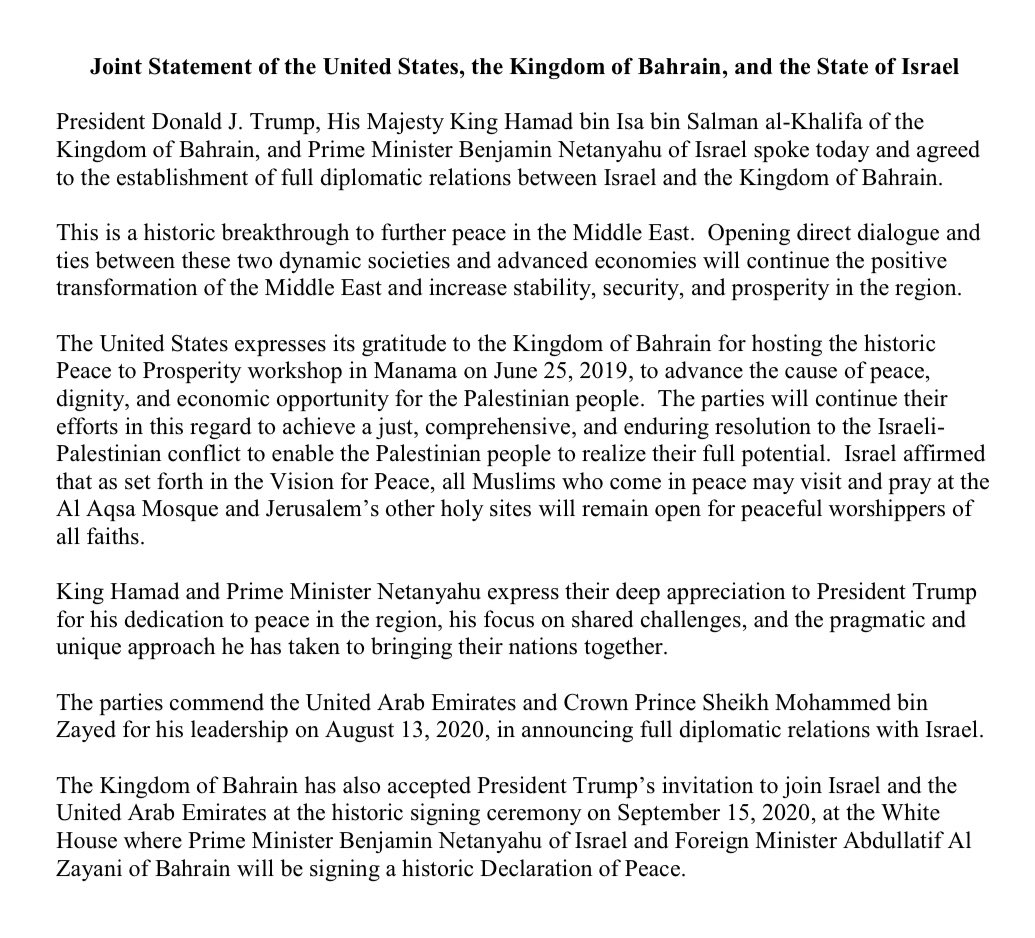 According to Adam Shaw for Fox News, ,
According to a formal statement issued by the three countries, they had agreed to "the establishment of full diplomatic relations between Israel and the Kingdom of Bahrain."

"This is a historic breakthrough to further peace in the Middle East. Opening direct dialogue and ties between these two dynamic societies and advanced economies will continue the positive transformation of the Middle East and increase stability, security, and prosperity in the region," the statement said.

The statement said that Israel had also affirmed that all Muslims may visit and pray at the Al Aqsa Mosque, and Jerusalem's other holy sites will remain open for peaceful worshippers of all faiths.
Now that we've seen multiple middle-east nations making international proclamations of peace with Israel, the idea of "World Peace" is becoming less of a fantasy and more of a reality. As you should know, President Trump was nominated earlier this week for a Nobel Peace Prize (something the left-wing media mob is trying to discredit) for the historic peace agreements he's brokered in just his first time in office. From all of us at Trending Politics, Good Job, President Trump - and keep up the good work.
sponsor

sponsor

sponsor